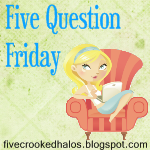 Brought to you by My Little Life
I decided to do a vlog again this week. I hope you enjoy it. LB isn't in this one because he was already in bed sleeping! Woohoo! He is feeling a little better today.
Since these next two memes are about meeting new friends I think I will group these three together. That way you can get to know me each week. I hope you enjoyed my video. Thanks for stopping by NFF and FF friends!
Brought to you by The Girl Creative
Brought to you by Heart Make Families